---
We are passionate for natural stones.

We know our stones.
Throughout the years we have gained a wealth of knowledge and experience in order to provide to our bespoke clientele the best technical services, meeting their needs and expectations.
As stone specialists, we know the worth of the amazing marble. Its journey through time from earth to building project.
We create a great frontline work environment and improve performance in everything we do.
Respecting our clients and their needs, striving for excellence and acting with integrity, are the core values of our business.
Unique stones on demand of color & size dimension
High quality end products on time & within the budget for building projects
Variation of processing: calibrated, beveled, polished, honed, antique, brushed, sandblasted
We build your dreams. We work with the best architects, skilled tradesmen and specifiers to nurture the growth of our clients. We invest a great deal in industrial machinery and technologies. Our qualified and professional team supplies the knowledge for highly performance in all stages.
We collaborate with production units in order to provide products of excellent quality and craftsmanship. Cost, delivery time and convenience are key factors for our clients, so we choose the most appropriate means of transportation for shipping every single order.
| | | |
| --- | --- | --- |
| 30X30X2cm | 30.5X30.5X1cm | 12''X12''X3/8'' |
| 30X60X2cm | 30.5X15.25X1cm | 6'' X12''X3/8'' |
| 40X40X2cm | 30.5X61X1cm | 12''X24''X3/8'' |
| 60X60X2cm | 40.6X40.6X1.2cm | 16''X16''X3/8'' |
| | 45.7X45.7X2cm | 18''X18''X3/4'' |
| | 61X61X2cm | 24''X24''X3/4'' |
| | slabs 2cm/3cm | slabs 3/4'' or 11/5'' |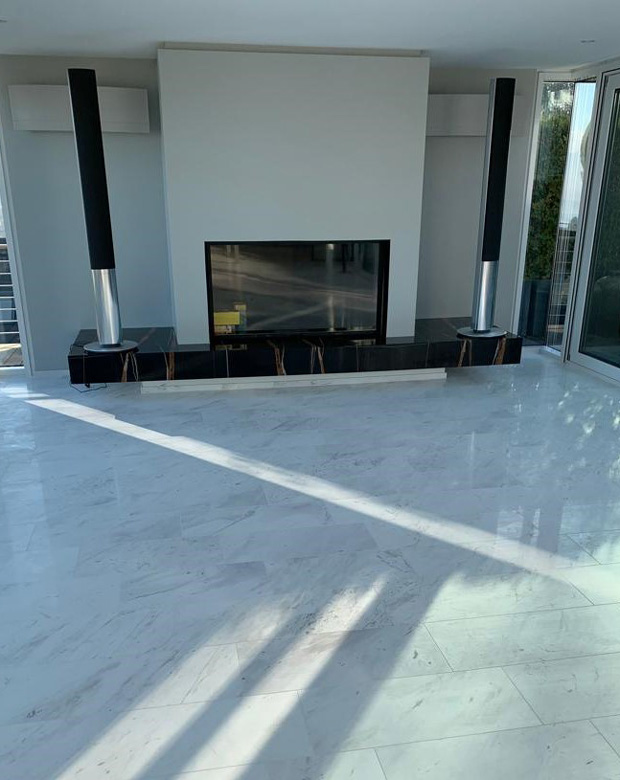 Dry lay & color checking for flooring (possibility to make any changes prior to delivery)
Tile inspection (quality criteria, color & size variation)
Water jet for precise shapes
Cut-to-Size products
Gang Saws
Single Wire
Slab Polisher
Tile Polisher
Tile Processing
Surface treatment machine and resinator
CNC
Bridge Cutters & Table Cutters
Edge Polisher & Profile Machines
Loading & Unloading Equipment
We offer special marble packing according to the regulations of the country our clients are based. We use certified wooden pallets. We make sure all materials are carefully packed for a safe transportation. Slabs are packed in wooden bundles or metal 'A' frames. Slabs in the bundles are tightly compressed. Tiles of 1cm (3/8'') and 1.2cm (1/2'') are packed in polystyrene and then placed in wooden crates. Each tile is to be separated by soft paper strips, avoiding friction during the transit. We guarantee that your marbles will be totally protected and reach safely their destination.